The Company was bought by James Tait shortly after his return from the First World War in 1918.  With the advent of the then new Companies Act, the Company was registered as Veitch Moir Ltd on 5 November 1927.  James Tait ran VM all through the Second World War and he and the Company played major roles in providing food in those difficult times.  In 1947 James Tait handed over the management of VM to his sons and left to set up businesses in South Africa.  There his efforts prospered and he called two of his sons, Murray and Sidney, to go and run the new family businesses there.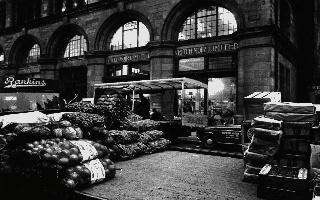 The management of Veitch Moir passed to Malcolm Tait in the 1960s and he subsequently acquired full ownership of the Company.  Over the years, VM had branches in Aberdeen, Dundee, Glasgow, Lerwick and Leith, in addition to the main business in Market Street, Edinburgh.  There were two  farming  activities in the  South of Scotland, and other businesses included supply of the North Sea oil rigs and the wholesale and distribution of protective clothing.
Under the management of Dewar Donnithorne-Tait, VM's current managing director, the Company is responding to changes in the market to continue to provide the high quality services and products which have been the hallmark of Veitch Moir Limited for three generations so far.  in 1999, the Company bought Rowfold Farm in West Sussex and produced cereal crops successfully for more than a decade.  Adfingo, the technology, consultancy and conservation actvitiy was established in 2000.  Amphora, the wine business, was established in 2003.  In 2006, the Company entered into a partnership to run the Crown Inn in Sussex.
The fourth generation, Hugo Donnithorne-Tait, has entered the Company leading the photography activity and participating fully in the conservation work.